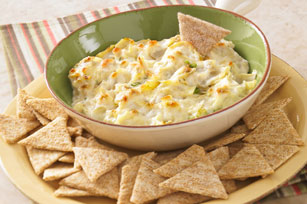 Ingredients
1 cup Mayonnaise
1 cup sour cream
1 cup of grated cheese
1 can of marinated artichokes
1 pack of Knorr cream of leak
Preparation
 Chop the artichokes using the Quick Chef Pro
 Add mayonnaise, sour cream and half of the cream of leak pack. Mix well.
Remove the blades and add cheese. Mix using the spatula.
Pour into a Medium Deep Vent'N Serve or into the 1.75L or 3L TupperWave
Cook at power level Medium (7) il cover or seal, then cook 1 minute at power level Hi (10) uncovered.
Mix and serve hot with homemade bread or crackers.
Delicious cold on toast the next morning!!!!
To order the products used in this recipe, click on the images below: