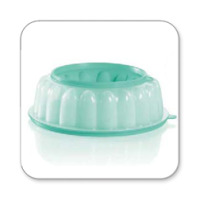 Lemon cheesecake
Ingredients
250g of softened cream cheese (30 seconds in the microwave)
1/2 container of thawed "Cool Whip" (or the same amount of whipped cream)
1 lemon
1 cup of Eagle Brand milk
1 Graham pie crust in an aluminum plate or Graham cracker crumbs and melted butter to make the recipe in the Jel-Ring mold
2 cup of frozen fruits (to choice)
1 cup of sugar
Preparation
In the TupperWave 750ml casserole/cover, mix the frozen fruits and the sugar then cook in the microwave on HI for 6 minutes. Mix and cook for another 2 minutes. Mix again and cook for the last 2 minutes. Reduce to a puree texture using the Extra-Chef.
Place the softened cream cheese in the Quick-Chef equipped with the blades and mix until smooth. Add the Eagle Brand milk mix until texture is homogeneous. Add the lemon zest and juice and the "Cool Whip" and gently mix until it's smooth.
Pour the fruit mixture in the Jel-Ring mold. Gently spread the cream cheese and lemon juice mixture over the fruits, spread as evenly as possible. Add the Graham cracker and butter mixture on top and put the seal on the Jel-Ring mold, making sure to create the airtight seal. Flip the mold over so that the cream cheese and fruits press down on the Graham cracker mixture and store the cake in the freezer for 30 minutes. Turn out onto a serving plate and enjoy!
To get the jel-Ring mold, click on the image below: