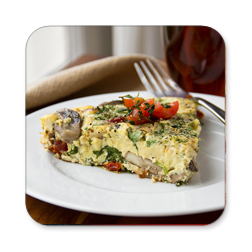 Here's a list of y favorite recipes to make at a brunch Tupperware party. Each one of these is very much appreciated and will have great success during your party. The process is simple: You pick the recipe that most inspires you and you purchase the necessary ingredients in time for the party. During the party I will prepare the recipe to demonstrate to all your guests that it's not only delicious but that it's also quick and easy to prepare!
Homemade Bread

3 cups all purpose flour, ½ teaspoon of dry yeast, 1 teaspoon of salt, 1½ cup of lukewarm water, ½ cup of all purpose flour (for kneading)

Granola

2 egg whites, 2 tablespoons of water, ½ cup of maple syrup, 1 teaspoons of vanilla, 2 cups of large flake oats,  ½ cup wheat germ ¼ cup ground flaxseed, ¼ cup shelled pumpkin seeds, ¼ cup almonds, 1 teaspoon of Tupperware Cinnamon – Vanilla Seasoning Blend (I'll supply this one!), ½ cup of dried fruit (cranberries, cherries, peaches, pears, dates, raisins…) *optionnal* ½ cup of dark chocolate chips

 

Quiche

½ cup of melted butter, 1 cup of Italian bread crumbs, 7 eggs, ½ cup of fresh parsley, 1 cup of grated cheese (Cheddar, Swiss, Gruyere or other), 1 cup of ham, 1/3 cup of heavy cream, 1 sliced tomato, turmeric (optional)

Mango, lime and coconut milk smoothie

1 cup of mango (frozen or fresh) cut into pieces, ½ cup of coconut milk (or ¼ cup of coconut milk + ¼ cup of orange juice), 1 lime

 

Lean chocolate cake and chocolate ganache recipe for the microwave

1/3 cup of yogurt, 3 egg whites, 1 chocolate cake mix and add a cup of water! Ganache : ½ cup of semi-sweet chocolate pieces, 1/3 cup of 35% cream.

Frittata

3 eggs, ½ cup of fresh vegetables (the leftovers from your fridge will do: carrots, celery, onion, broccoli, etc…), fresh basil, 1/4 cup of grated mozzarella, Tupperware Italian seasoning blend spices (I'll supply this one!), 3 tomato slices as garnish (optional)

.

Sweet nachos with fruit salsa dip

6 tortillas, 1 cup of coconut oil (or vegetable oil), 2 cup of sugar, 1 cuo of Tupperware Cinnamon – Vanilla Seasoning Blend (I'll supply this one!)

Salsa: 4 cups of fresh fruits (apples, peaches, strawberries…)

Strawberry jam

2 cups of strawberries, ¼ cups of maple syrup, 3 tablesppons of black chia seeds (preferably ground)

 

Mandarin and ginger granita

2 cans of mandarins (keep in freezer the night before), 2-3 Tbsp of fine sugar, 2-3 tsp of fresh ginger, 1 egg white

Thin crepes

1 cup of all purpose flour, 2 tablespoons of sugar,  a pinch of salt, 2 eggs, 1 ½ cup of milk, ½ teaspoon of vanilla, 1 tablespoon of melted butter or coconut oil.
You haven't planned your party yet? Check out the current offers and promotions that you could take advantage of, and pick your date! Contact me with your preferred date as soon as possible!