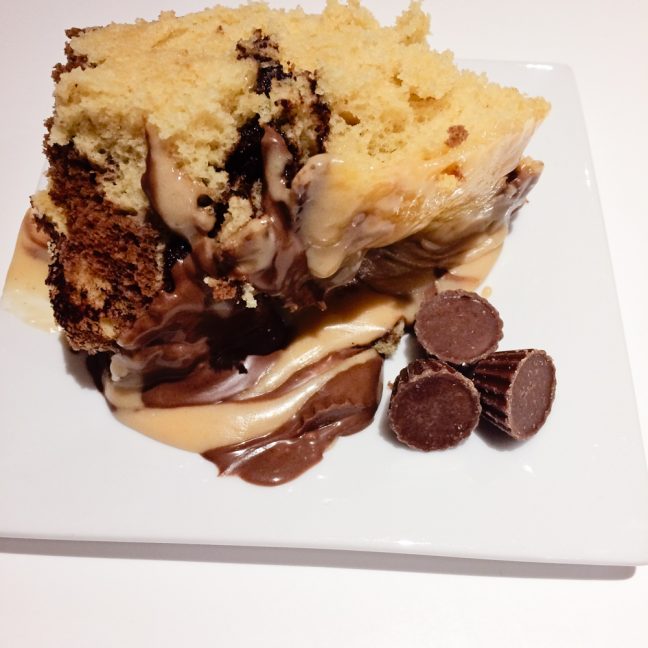 Here's a delicious and decadent recipe everyone will love!
Ingredients:
3 Eggs
1 Super Moist yellow Cake Mix
1 Cup Water
½ Cup Peanut Butter (I use plain)
1/3 Cup Butter softened
Chocolate sauce ( 2/3 cup of chocolate chips and 1/3 cup of cream 10% heated in the microwave for about 45 seconds. Mix well.
1 x 8 Oz package Mini Reese Cups (minus a few I eat).
Frosting:
3 tbs peanut butter
3 tbs milk
1 cup powdered sugar
Preparation:
Mix the 1st 5 ingredients together then take out about 2/3 cup of mixture put into a separate bowl and mix well with 2 tbsp of the chocolate sauce.
Then put half the remaining Mixture into the bottom of the Pressure Cooker – add 2  tbsp of chocolate sauce on top of cake mixture and give it a good stir with a thin spatula.
Pour 1/3 the Bag of Mini Reese's cups on top and add the cake mixture from the small bowl that you had added the Chocolate sauce.
Add the remaining half of Cake Mixture on top of that squeeze more chocolate sauce on top and give a good swish and cover and cook on high for 10 min.
Allow to depressurize – about 5-10 min
Mix Frosting in a small bowl and after it depressurizes take the cover off and pour the frosting over the "cake"
If you have some Chocolate sauce left you can add it on Top of the Frosting and add theremaining Mini Reese cups.
Enjoy!