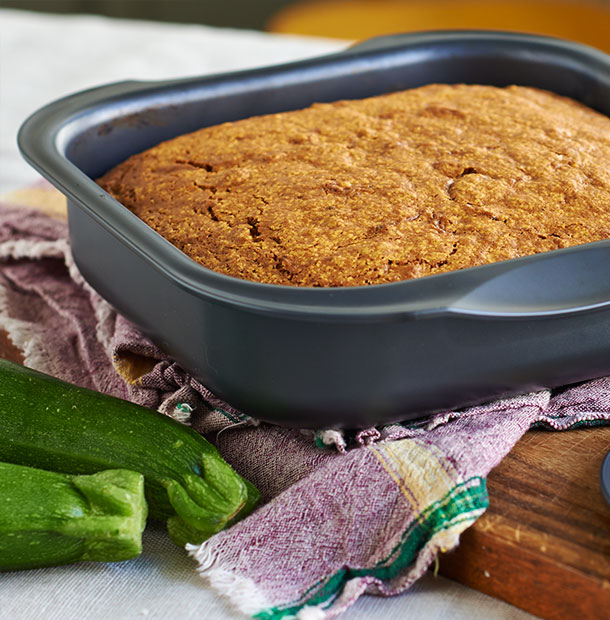 A kitchen can't be ready for the fall season without the warming scent of pumpkin spice—but this isn't your typical pumpkin spice recipe. Try out our zucchini bread using the Grate Master™ Shredder and let us know what you think. And also how your kitchen smells once this delicious masterpiece is complete!
Ingredients
1½ cups sugar
½ cup vegetable oil
2 eggs, beaten
½ lb./225 g canned pumpkin
1/3 cup water
¾ tsp. vanilla extract
½ tsp. baking powder
1 tsp. baking soda
1 tsp. table salt
1 tsp. cinnamon
1 tsp. pumpkin pie spice
1¾ cups flour
1 medium zucchini
1 tbsp. softened butter for greasing pan
Instructions
Preheat oven to 350° F/175° C.
In a medium Thatsa bowl, whisk together sugar, oil, eggs, pumpkin, water and vanilla. Set aside.
In another medium Thatsa bowl, whisk together baking powder, baking soda, salt, spices and flour.
Whisk wet and dry ingredients together until well combined.
Assemble Grate Master™ Shredder with fine cone. Place zucchini in hopper and turn handle to shred, using plunger to push last of zucchini, when necessary.
Fold 1–2 cups shredded zucchini into batter.
Pour batter into greased UltraPro 2-Qt./2 L Square Pan. Bake 30–40 minutes or until knife comes out clean.
To order the products used to make this recipe, click en the image below