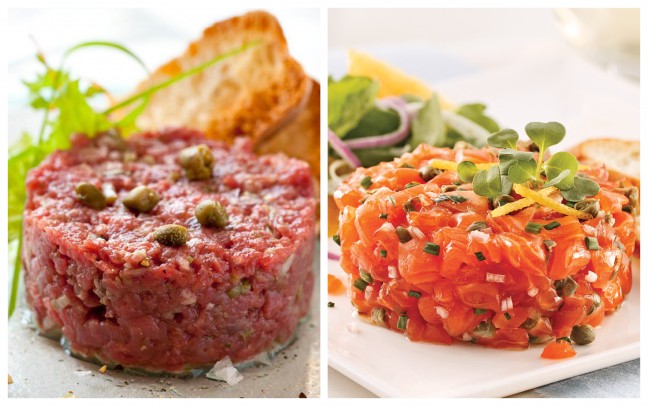 Here are 2 simple tartar recipes that easy to make using the Tupperware Fusion Master!
 (The best) beef tartar, according to Ricardo
Ingredients
Preparation
Using the Quick Chef or the PowerChef equipped with the paddle whisk, mix the lemon juice, the mustards, egg yolk, capers and the sambal oelek. Using the funnel, add olive oil, whisking continuously. Season to taste.
Mince the beef round using the Fusion Master, letting the minced meat fall into the mayonnaise. Add the fresh herbs, shallots and mix well. Add salt and pepper. If you want a little spice, add sambal oelek to taste.
Serve with croutons, grilled baguette, homemade fries or a fresh salad.
Fresh salmon tartar
Ingredients
1 lb fresh salmon filet
Juice of 1 lemon
1/4 cup olive oil
1 tbsp of whole grain or Dijon mustard
1 tbsp chopped chives
1 tbsp fresh basil, chopped
24 capers
1/2 medium red onion
3 shallots
Salt and pepper to taste
Preparation
Place the basil, chives, shallots, red onion and capers in the base of the Extra Chef and chop finely.
Add the lemon juice, using the Zest N'Press gadget. Add olive oil and mustard and mix well.
Cool the salmon in the freezer for 15-20 minutes (should become very cold without freezing).
Mince the salmon using the Fusion Master letting the minced salon fall into the base of the Extra-Chef. Mix well by hand, add salt and pepper to taste.
To order the products used in this recipe, click on the images below: