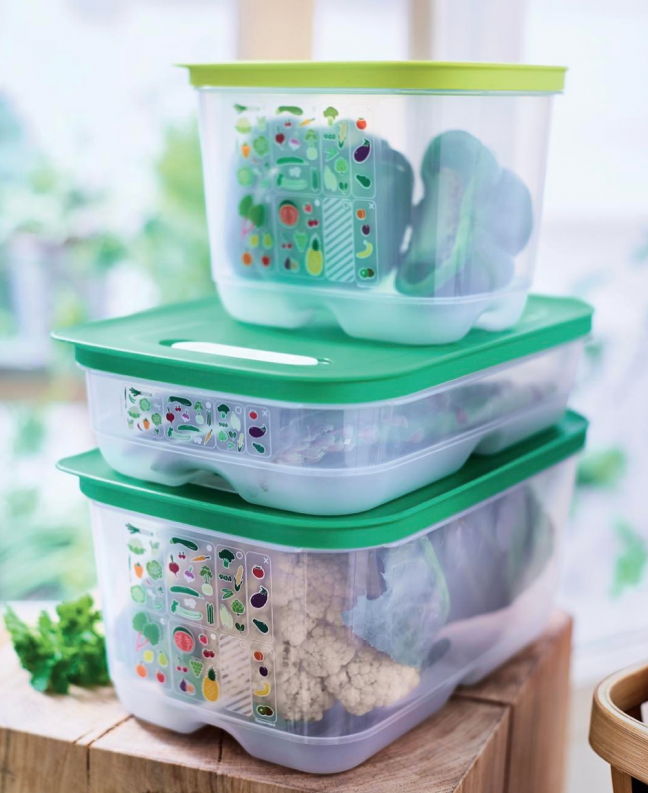 Did you know that on average, a family of 4 throws out 24 pounds of fruits and vegetables every month?
Get the best out of your grocery budget with the FridgeSmart containers; they're made to extend the life of your fruits and vegetables.
Fruits and vegetables stay fresh longer when they can "breathe". The FridgeSmart containers are equipped with the innovative EZ sliders to control the air quantity in every single container.
Since some types of fruits and veggies require different air fluxes in order to keep them fresh, each container has a three-position slider on its cover. This slider can be "open", "closed" or "half and half"; which gives you three different ventilation settings.
A simple, easy to use reference table situated on the front of each container gives you a list of the most popular fruits and vegetables, and shows you how to set the slider according to the type of produce so they only get the air they need to keep their freshness.
The incorporated grid at the bottom of every container keeps the fruits and veggies above condensation, preventing waste.
As opposed to bags, The FridgeSmart Containers allow you to stack your produce without crushing and smothering them.
These modular and stackable containers help you get the best out of your refrigerator's space.
The rounded corners of the containers and the large groove of the lids make them easy to clean. They are also dishwasher-safe with no risk of erasing the reference table.
Fruits and veggies can easily be identified at a glance due to the see-through containers.
Reduce the amount of food that ends up in the thrash.
To order, click on the image below:

A great demonstration idea you can make at your next Tupperware party.
Dare to do the broccoli challenge! Two to three weeks prior to your party, buy two broccoli heads, wrapped in plastic. Un-wrap one and put it directly in your refrigerator and take the plastic off the second one and place it in a Small Deep FridgeSmart container with the slider on the "open" position. When the day of the party arrives, ask your host to take the two broccolis out of the fridge in order to show her guests how the broccoli that was put in a FridgeSmart has a better look, freshness and taste.