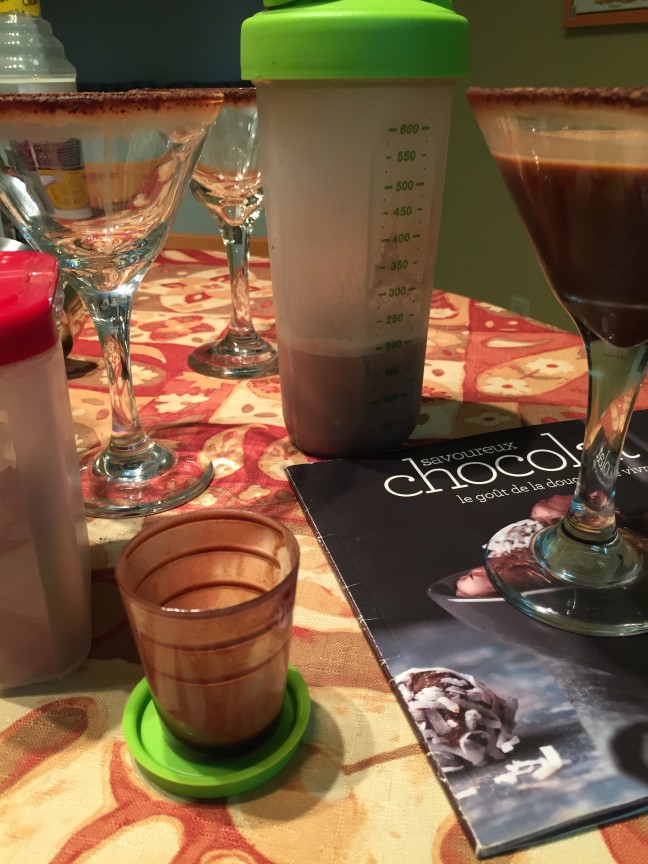 Great chocolaty recipes for a girls Tupperware party!!!
2 simple and delicious recipes: Chocolate mousse and chocolate martini
Chocolate Mousse
Ingredients
1 2/3 cup heavy cream (35%)
1 cup bittersweet chocolate chips
1/2 cup sour cream
Fresh raspberries of strawberries for decorating
Preparation
Place heavy cream in the base of the PowerChef and whip using the PowerChef whip accessory. Whip cream until it forms stiff peaks. Place whipped cream into a small Thats'a bowl or a small wonderer, and place into the refrigerator.
Place chocolate chips into the 2 cup Micro pitcher and heat in the microwave using 20 second intervals, mix well between intervals until smooth.
Place melted chocolate and sour cream into the base of the power chef. Mix together until smooth using the PowerChef Whip accessory.
Fold the whipped cream into the chocolate using the silicone spatula.
Place chocolate mousse in snack cups and place in the refrigerator to cool.
Decorate using fresh berries and/or chocolate shavings.
To order the products used in this recipe, click on the images below:
Chocolate Martini
Ingredients
Chocolate syrup
Heavy cream (35%)
Frangelico
Vodka
4-5 ice cubes
1 tbsp of cocoa powder
1 tbsp of sugar
Préparation
Mix sugar and cocoa powder together, place into small plate.
Place about 1cm of water into another small plate
Dip martini glass rim into the water, then dip martini glass rim into the sugar-cocoa powder mixture to decorate glass rims.
Using the TupperMinis, measure 1 onz of each and place into the Quick Shake Container: heavy cream, vodka, Frangelico and chocolate syrup. (1 oz of each makes 1 martini)
Add ice cubes and shake a few seconds
Pour drinks into the decorated glasses and enjoy!
To order the products used in this recipe, click on the images below: