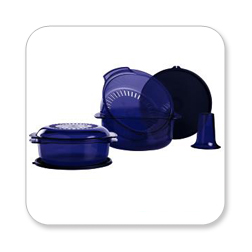 Thanks to Sylvie Chatillon, consultant from my team for sharing this trick:
" I'm glad to share with you this trick for legume-lovers like me! I like to eat fresh and I try to use processed foods as little as possible, and that also applies to legumes… "
In order to avoid the soaking time, which can take up to 8 hours, place them in the 3L TupperwareWave container and cover generously with water. Place in microwave and cook at power level Hi (10) for 15 minutes. Let rest for 1 hour in the soaking water.
Strain your legumes using the double colander and your ready to cook them on the stovetop using one of the Chef Series casserole, and cook them the recommended time for the kind of legume used (usually 60-90 minutes).
Quick tip: For fresh legumes ready to use at all times: Keep some cooked legumes in your freezer; portioned in our Freeze-It containers! When you need them, just rince under hot water in a colander for a quick thaw, then use them in sauces or to add proteins to your salad! It's easy to eat healthy with the right tips and tricks!
---
Here is a fresh apple, cranberry and legume salad, from Ricardo's website:
Dressing
Ingredients
¼ cup Olive Oil
3 Tbsp Apple Cider Vinegar
2 Tbsp Maple Syrup
Salt and pepper, to taste
Preparation
Place all ingredients in the Quick Shake container.
Shake until homogenous
Salad
Ingredients
2 ¼ cups Chickpeas, rinsed and strained
2 ¼ cups red beans, rinsed and strained
1 Granny Smith apple, diced
½ seedless cucumber, unpeeled diced
125 ml (½ cup) dried cranberries
1 green onion, minced
60 ml (¼ cup) unsalted peanuts
Préparation
Place all ingredients in a medium Classic Impressions bowl and stir. Add dressing, mix well and serve!
To order the products used in this recipe, click on the images below:
Original recipe here.