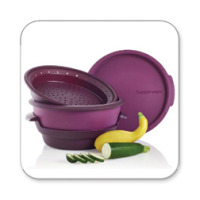 The ingenious design of the Tupperware® SmartSteamer blocks microwaves from cooking foods. Instead, microwaves are directed to the Water Tray below, causing the water to boil and the steam to rise for perfectly steamed foods. Our unique, two-tiered system lets you steam one or two foods at once.
Steaming is one of the healthiest ways to prepare food because it retains nutrients, fatty acids and vitamins while preserving color, texture and flavor. And it's also one of the most delicious, too!
• Includes 1¾-qt./400 mL Water Tray, Steamer Base, Colander and Cover.
• In Rhubarb/Royal Amethyst.
Descriptive pamphlet (english, french and spanish)
Click here for recipes starring the SmartSteamer!
Order it online by clicking on the image below: