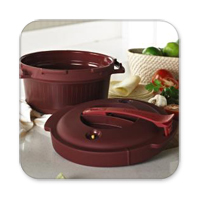 Discover a new way to prepare your favorite homemade dishes. Save time and resources with the new Microwave Pressure Cooker. Mealtime is even more fun when you make mouthwatering meals in minutes without turning on your stove or oven. With fail-safe features for ultimate safety, heavyweight material and our famous warranty,* ours is beyond the best on the market.
• 2-qt./2 L max capacity.
• In Apricot/Bordeaux/Pomegranate.
Click here for recipes starring the Microwave pressure cooker
To order the microwave pressure cooker, click on the image below: