A lot of people think that today's Tupperware products are no different than their grandmother's. Fortunately, the company has developed different product collections that enable us to host at home with a table setup for grand occasions!
Acrylic products such as the Ice Prisms collection and the Sheerly elegant collection are indeed great examples of sparkling, stylish and functional products. Aside from being nice, they are also virtually unbreakable and light. In addition, we like they're practical side because they come with seals for easy transport and storage. It's much more relaxing to have family and friends over when you know that your dishware isn't fragile and that it won't require messy transfer from the serving bowl to the storage bowl
The Sheerly elegant or Ice Prisms service bowls will nicely decorate your kitchen table and make the room more inviting. Fill it with fruits or whole nuts, or even cookies or muffins, this way your guests will always have a little something to snack on.  These classy containers can also be used to serve salads, chips, veggies and dip, etc.
These collections also have pitchers that allow you to serve drinks in style: sangria iced tea, juice or even a cocktail! If you want your guests to serve themselves, you could keep your drinks cold by planning ahead. Simply freeze part of what you plan to serve (about 1/5 of the entire recipe). For example, if you plan to serve iced tea, simply fill the Fresh and Pure ice trays with iced tea, or if you serve Sangria you could fill the trays with 7up, that way when the melt, you want have water diluting you drink!
The beautiful Sheerly elegant tumbler or the Ice Prism Tumblers offer a safe and superb option to serve drinks. You can use them inside or outside, for adults or kids! 
Using the Impressions bowls collection, we can make an ice bowl to impress your guests! Fill half of the Large Impressions bowl with boiling water. Then, place the Medium Impressions bowl in the large one in order to raise the water level until it reaches the top of the large bowl. Finally, place the lid onto the large bowl and send this assembly to the freezer for the night. To unmold, lightly run the bowl under hot water and gently remove the ice bowl. For serving, place the ice bowl onto the lid so that it collects the water from the bowl as it slowly melts. This bowl can be used to serve punch, a shrimp cocktail, etc. It's really impressive and beautiful!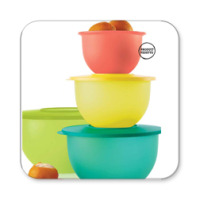 In order to host guest without being stressed, it's always good to have on hand a few ingredients in our Modular Mates and to have a few bases in the freezer, in our Freezermates. For example; soups, broths, sauces, cooked rice, etc.
When guests stop by uninvited, here are a few quick and easy recipes you can whip up in jiff:
Mango pineapple salsa serve with a glass of rosé wine
Light chocolate cake with Toblerone icing served with green tea
Express cheesecake in the Jel-Ring mold
In our TupperWave you can prepare a whole meal in just minutes!
These and many other recipes can be found in the recipes section of the blog.
Tupperware offers as many possibilities to serve elegantly and hassle free, than solutions for quick and easy meal preparations. Tupperware makes the party clean up easy; simply put the lids on your service bowls and store, and the dirty ones can be placed in the dishwasher for easy cleaning! (With the exception of the acrylic products hand washing is recommended for these collections in order to maintain the glasslike aspect)