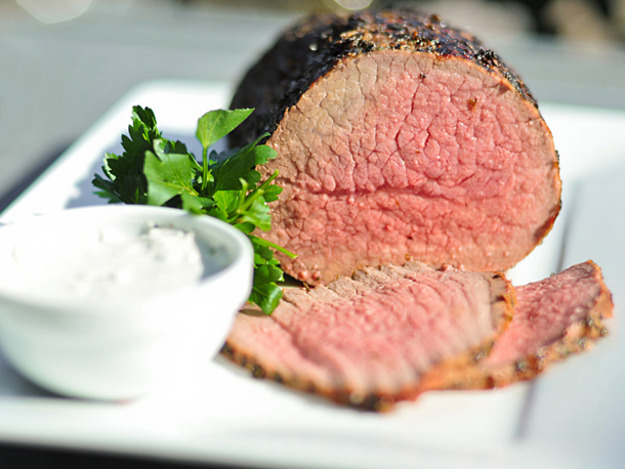 Ingredients:
– 3 lb. beef eye round or rump roast
– 1 Tbsp. Steak & Chop Seasoning
– 3 cups beef stock
– 3⁄4 cup sour cream
– 1 tbsp. horseradish
– 1⁄4 tsp. coarse kosher salt
– 1⁄4 tsp. black pepper
– 1 tbsp. mayonnaise
– 3 green onions, chopped using Chop 'N Prep Chef
Preparation:
Coat roast with seasoning and place in base of Tupperware Microwave Pressure Cooker. Pour beef stock into base to maximum fill line, about 3 cups.*
 Seal and microwave on high. Guidelines for doneness: 20 minutes for a medium rare center; 25 minutes for a medium center; 30 minutes for a well done center.
Remove from microwave and allow pressure to release naturally until red pressure indicator fully lowers, about 10-15 minutes.
Remove roast to cutting board. Allow to rest at least 10 minutes before slicing.
Meanwhile mix together remaining ingredients to create horseradish cream sauce.
Slice beef and serve with sauce.
*If the shape of your roast causes it to rise about the max fill line, simply trim off that portion. Submerge this piece into the beef broth next to your roast. This piece will be well done. Any portions above the max fill line or not submerged in broth may burn.
To order the products used in this recipe, click on the images below: